<!?php echo nl2br($content); ?>
Tincan Creek
[Brief] Tin cans, gold pans and a blunderbus.
Published 8-4-2020 | Last updated 8-4-2020
60.779, -149.219
| History | local name reported in 1912 by Grant and Higgins (1913, pl. 1), U.S. Geological Survey (USGS). |
| --- | --- |
| Description | on N end of Kenai Peninsula, flows NW 5 mi. to Granite Creek, 10 mi. SE of Sunrise; Chugach Mts. |
The next time you click into your backcountry bindings for a tour of Tincan or admire it from the Turnagain Pass rest area, spare a thought for the old-timers who named it over 100 years ago. On January 26th and 27th of 1897, prospectors W.H. Hammer (spelled 'Hamer' in the Tincan Creek claim records) and C.L. Stimhauser were exploring the headwaters of Granite Creek. On Lyon Creek, Stimhauser staked the Home Stake Placer Claim and Hammer staked the Jim Dandy Claim. Legally recording mining claims required an entry in the local recorder's book, plus boundary markers and a written notice on location. Both men placed the written notices, leaving a "location notice in Tin can fastened to lower stake made of tree."
By January 27th, a name had been born. The men traveled one valley north armed with more empty tin cans and staked the Blunderbuss (Hammer) and Gold Pan (Stimhauser) placer claims. In the associated book entries they described their new claims as being "in a Gulch which shall be known as Tin Can Gulch. Said Gulch being next [above] Lyon Creek at the head of Granite Creek."[1].
It is unclear where the rest of Stimhauser's life led him. Hammer spent the next decades prospecting the upper Kenai Peninsula until dying of dropsy (or edema, most commonly caused by chronic pulmonary disease) on August 5th, 1919.[2]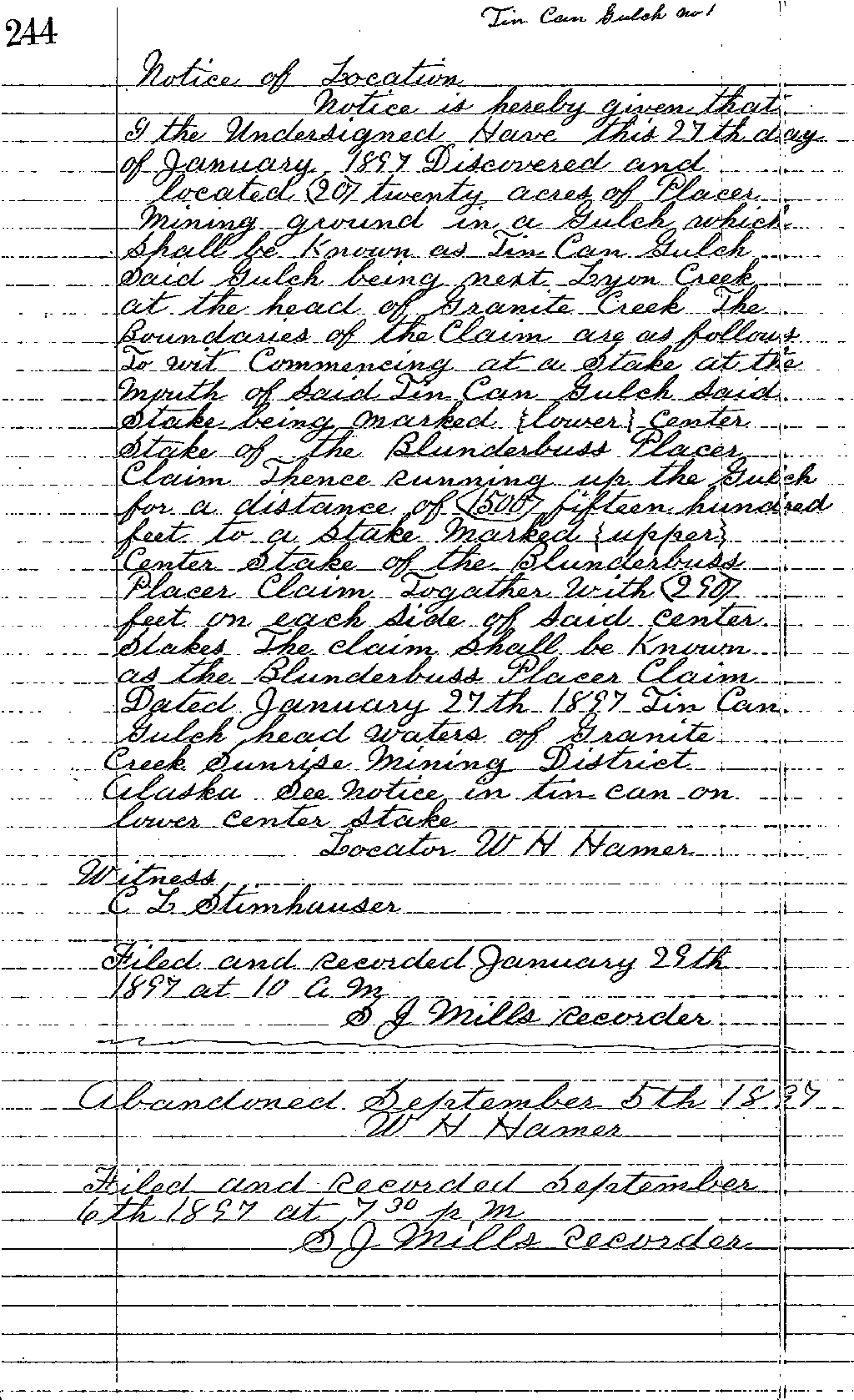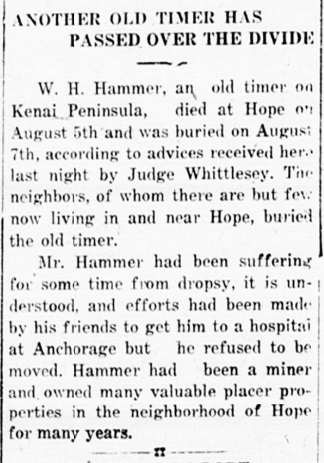 Sources
[1] Mills, S.J. Notices of Location of Placer Claims, Sunrise Mining District Mining Book 2, 242-245.

[2] "Another Old Timer Has Passed Over The Divide." The Seward gateway daily edition, and the Alaska weekly post, August 18, 1919. Accessed August 4, 2020. https://chroniclingamerica.loc.gov/lccn/sn87062016/1919-08-18/ed-1/seq-4/.