<!?php echo nl2br($content); ?>
Mazuma Creek
Yiddish Slang in the Alaskan Backcountry.
Published 6-2-2020 | Last updated 4-5-2020
62.023, -147.876
| History | Local name published by G. C. Martin and J. B. Mertie (in Brooks and others, 1914, pl. 11), U.S. Geological Survey (USGS). |
| --- | --- |
| Description | flows SW to Caribou Creek, 20 mi. NW of Tahneta Pass, Talkeetna Mts. |
Caribou can travel over 800 miles one-way on their annual travels, the furthest journey of any migratory land mammal.[1] But even those Arctic icons can't compare to how far a word might travel in its lifetime. There are more than a dozen Caribou Creeks in Alaska but perhaps the most recognized one is a tributary of the Matanuska River currently most known for its classic ice climbs and the scenic, curving causeway of the Glenn Highway near Lion Head. Roughly a marathon (26.2 miles) upstream, however, lies a less-recognized creek whose name started out much further afield than any caribou calf ever did: Mazuma.
A word needs to describe something useful to make it that far, and this one sure does! Moolah, dough, clams: mazuma means money in Yiddish slang, the culture whose rye bread and wry humor has broadly influenced modern American comedy and culture. The roots of the word 'mazuma' can be traced back all the way to Akkadian, the language of Babylon around 2000 BC, and passed through the Mishnaic Hebrew of the Torah, then through medieval eastern Europe into Yiddish before setting off for Ellis Island.[2]
It's not exactly known which mensch had the chutzpah to schlep the name 'Mazuma' all the way up Caribou Creek, but here's some healthy conjecture. The early 19th century was the height of Yiddish influence on American culture, and 'Mazuma' had become popular slang in California. Particularly, "Colonel Mazuma" was a cynical Californian euphemism in the 1880s to 1900s for the underhanded influence of money.
In 1889, Californians seeking to carve off a portion of the existing Los Angeles County to form the new Orange County found that help from "Colonel Mazuma" could persuade reluctant members of the California legislature to vote for their cause.[3][4] They weren't wrong; Orange County exists to this day.
In the People v. Stokes trial heard by the California Supreme Court in 1894[5], a newspaper was accused of tainting the jury against a man accused of armed robbery with a headline suggesting 'Colonel Mazuma' was influencing some jury members to find him not guilty. The Court granted a retrial, finding: "It appears that the term "Colonel Mazuma" not only does not indicate some gentleman with a military title, but it does not even refer to a person at all. We fail to find the term mentioned by our lexicographers, but understand it to be a modern provincialism, probably emanating from the daily press, and used when referring to the corrupt application of money in the accomplishment of certain ends." This slang continued into the early 1900s, for example with the op-ed poem The Colonel Wins Out in The Town Talk Journal, San Francisco, 3/16/1901.[6] There was even a racehorse named Col. Mazuma in the circuit around 1903.[7]
But how did the Colonel get to Alaska? Albert J.R. Drees and Fred C. Drees staked 100 acres of placer ground in the Mazuma Group of claims in a creek they referred to as 'Mazuma Gulch' in August, 1906[8], which is the earliest use of the name known to this author. The creek is mapped but not labeled on an official USGS map by Gerdine and Sargent of their 1906 survey work, and the name is also not mentioned in their report.[9] Similarly, the creek is not labeled on Herning's Map of Central Alaska, also from 1906.[10] This makes the Drees brothers very likely to be the party which named the creek, or at very least to have been close colleagues or friends of those who did.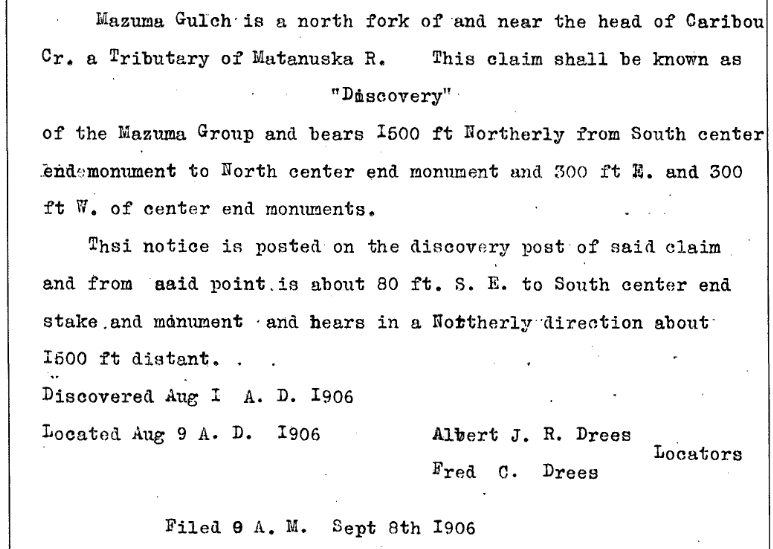 An Albert John Rhinhart Drees was drafted for World War 1 in Anchorage, Alaska, and his draft card listed him as a miner born on 11/8/1875 with his nearest relative living in Petaluma, California, in the San Francisco Bay Area. Later on an Albert J. Drees, presumably the same man, was recorded in the 1930 census as a miner born in California to parents born in California.[11][12]
It seems reasonable to assume that these Californians would have been quite familiar with Colonel Mazuma and his ability to help them get what they wanted, and eager to seek him out in the upper reaches of Caribou Creek in the summer of 1906.
Sources
[1] Joly, K., Gurarie, E., Sorum, M.S. et al. Longest terrestrial migrations and movements around the world. Sci Rep 9, 15333 (2019). https://doi.org/10.1038/s41598-019-51884-5 (accessed April 5, 2020).

[2] "Mazuma" Online Etymology Dictionary. https://www.etymonline.com/word/mazuma (accessed April 5, 2020).

[3] Lovret, J., "How Orange County came to be", The Orange County Register. August 3, 2010. https://www.ocregister.com/2010/08/03/lovret-how-orange-county-came-to-be/

[4] Armor, S. "History of Orange County" (1921): 33, https://books.google.com/books?id=yhMVAAAAYAAJ&pg=PA33 (accessed April 5, 2020).

[5] People v. Stokes, 103 Cal. 193, https://babel.hathitrust.org/cgi/pt?id=uc1.b4428707&view=1up&seq=240 (accessed April 5, 2020)

[6] "The Colonel Wins Out." The Town Talk Journal, San Francisco, March 16, 1901. Accessed April 5, 2020. https://books.google.com/books?id=MA1IAQAAMAAJ&pg=PA37.

[7] Morning Telegraph's Racing Chart Book, Vol. 13. Index, 12. Accessed April 5, 2020. https://books.google.com/books?id=r9oGAAAAYAAJ&pg=RA6-PA12

[8] Goodell, J. Notice of Location of Placer Claims, Mazuma Group. Cook Inlet Precinct Book 1, 117-122.

[9] Sargent, R.H. and Gerdine, T.G. Reconnaissance Map of Matanuska and Talkeetna Region, Alaska. Plate 1 from Bulletin 327. Scale 1:250,000. Washington, D.C: Geological Survey (U.S.), 1907. https://pubs.usgs.gov/bul/0327/plate-1.pdf (accessed September 11, 2019).

[10] Herning, O.G. Map of Central Alaska. 1906. From Christie's Lot #2622, The Private Library of Kenneth Nebenzahl. https://www.christies.com/lotfinder/Lot/gold-rush-alaska-herning-og-5546046-details.aspx (accessed February 22, 2020).

[11] "U.S., World War I Draft Registration Cards, 1917-1918," digital image s.v. "Albert John Rhinhart Drees," FamilySearch.org (accessed April 5, 2020).

[12] 1930 United States Census, Anchorage, Alaska, digital image s.v. "Albert J. Drees," FamilySearch.org (accessed April 5, 2020).