<!?php echo nl2br($content); ?>
Mount Williwaw
"... havoc in short order."
Published 7-6-2020 | Last updated 7-6-2020
61.104, -149.513
| History | Named in 1963 by the Mountaineering Club of Alaska because an infantry company from nearby Fort Richardson was caught, in May 1962, in a williwaw (a windy spring blizzard) near the slopes of this mountain. Three men died of exhaustion before the group was rescued. |
| --- | --- |
| Description | In the Chugach Mountains, near the head of Ship Creek, 2.5 mi NNW of Indian Creek Pass and 15 mi SE of Anchorage. |
| Jacob Henry | John Lemist | Peter Robinson |
| --- | --- | --- |
| | May 15th, 1962 | |
Mount Williwaw is the highest peak in the Front Range of Anchorage, a system of mountains bounded by Ship and Indian Creeks. The Front Range is the most heavily traveled sector of the modern Chugach State Park, attracting recreators of all ages. Yet it is also a wild coastal mountain range, with all the wildlife and rockfall and avalanches and storms that entails, and there are times when being able to see the lights of civilization doesn't count for much.
A williwaw is a particular kind of storm which is native to coastal mountains. It is caused when high-density cold air flows down a slope through warmer, less dense air, and is also known as katabatic wind. The greater the temperature and elevation differences, the more powerful the gust. Snow-capped peaks looming over a sea coast are the perfect recipe. They can be unpredictable, focused on a concentrated area, and blow up to 120 knots (or 138 mph; a 'hurricane force wind' is 64 knots or greater).
There is actually some question about where the word came from. The earliest uses found by the Oxford English Dictionary[1] begin in 1842 and are related to British sailors around Tierra del Fuego, though for obscure words a British dictionary may have more access to British sources.
"I feel our ship once in a while tremble, as a fierce gust, or williwaw, strikes suddenly down upon us from the hills"
– Antarctic Scenes, New York Tribune, May 1872[2];
There are some suggestions that the word has an Alaska origin, including a 1912 news article on the Matanuska Coal Fields stating
" Then it was that one of those peculiar storms known to the Indians as williwaws broke suddenly upon the expedition and upset its calculations. A williwaw is a hurtling wind that comes down from interior Alaska and breaks upon the placid bay with no warning whatever."
- Uncle Sam Starts an Alaskan Coal Mine. The Evening Star (Washington, D.C), November 1912[3];
Regardless of the precise origin, the word was quickly adopted into English and embraced by Alaskans to help describe their environment. Well, 'embraced' might be an overstatement.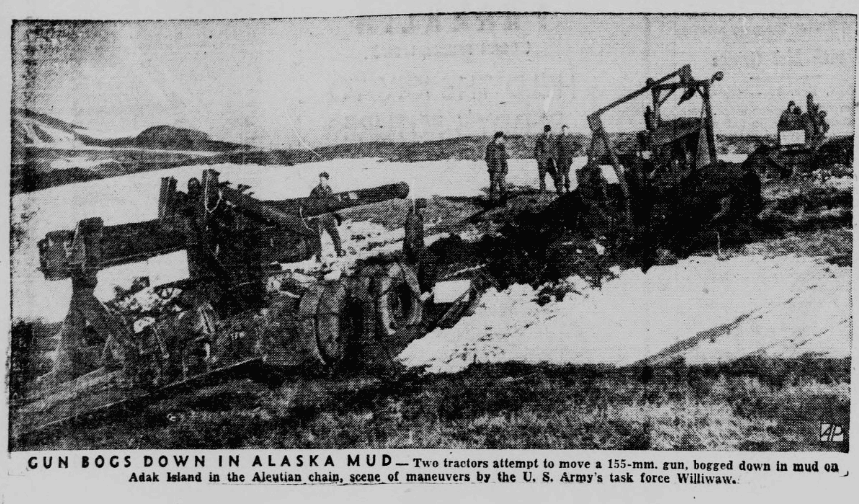 "Task Force Williwaw and Task Force Frigid were the names bestowed on the first cold-weather Army exercises organized in Alaska following World War II[4];
And up until 1962 the word 'williwaw' was merely that weather phenomenon in the mind of an average Anchorage resident. The Chugach State Park would not be established for another eight years and at the time, the peak was known only as Peak 5445. Dave Meyers, Nick Parker, and Mike Judd, who eventually accomplished the first recorded ascent of the mountain on June 11, 1965, were calling it 'Mount Frustration' amongst themselves after 3 previous failed attempts but that name never stuck in the broader community.[5];
On May 14th, 1962, Company C of the 1st Battle Group, 23rd Infantry, approached the peak from the Ship Creek Valley on what was meant to be "an easy-trip to start the summer training program," as commanding officer Capt. Stanley C. Pore described it. The three day route was intended to traverse from Ship Creek Valley to Campbell Airstrip, but while crossing the 4455' pass between Mt. Williwaw and Koktoya Peak (also named later, in 1967), the wind struck hard. Jerry Bowkett of the Anchorage Times reported[6];:
The wind was blowing at the soldiers' backs, at an estimated 50 knots [58 m.p.h.], whipping along a heavy snowfall that lowered visibility to about 100 yards. It was at this point that the first man collapsed.
"We put him in two sleeping bags but we couldn't carry him in the wind," Pore recalled. "The wind knocked me off my feet."
Two more men also collapsed while the soldiers struggled to reach camp or hunker down. The unit was eventually airlifted to safety rather than covering the remaining 10 miles to Campbell Airstrip. The pure intensity of the windstorm was demonstrated by the autopsies, which concluded that "the deaths were attributed to exhaustion resulting in heart failure, not to the cold."
One year later, in December 1963, the Mountaineering Club of Alaska submitted an extensive list of proposed names for peaks around Anchorage to the U.S. Board of Geographic Names, including both original names and ones already in local use. The naming committee was led by legendary Alaskan alpinist Vin Hoeman, himself an Army veteran, and the name 'Mount Williwaw' was proposed and accepted "for the 5445' highest one immediately east of Anchorage"[7].


Sources
[1] Oxford English Dictionary, s.v. "williwaw," accessed June 29, 2020, https://www.oed.com/view/Entry/229080.

[2] "Antarctic Scenes." New York Tribune, May 18, 1872. Accessed June 28, 2020. https://chroniclingamerica.loc.gov/lccn/sn83030214/1872-05-18/ed-1/seq-5/.

[3] "Uncle Sam Starts an Alaskan Coal Mine." The Evening Star, Washington, D.C, November 10, 1912. Accessed June 28, 2020. https://chroniclingamerica.loc.gov/lccn/sn83045462/1912-11-10/ed-1/seq-51/.

[4] Siedler, William J. "The Coldest Front: Cold War Military Properties in Alaska", Department of Defense, 2012. dnr.alaska.gov/parks/oha/publications/coldestfront.pdf (accessed July 6, 2020).

[5] Myers, D., "Frustration Peak (5445') First Ascent" The Scree, Mountaineering Club of Alaska, July 1965.

[6] Bowkett, J. "Capt. Pore Tells How Storm Hit Army Marchers." The Anchorage Times, May 16, 1962. Accessed June 28, 2020. https://www.akfatal.net/Henry.htm.

[7] Hoeman, V., The Scree, Mountaineering Club of Alaska, December 1963.