<!?php echo nl2br($content); ?>
Wolverine Peak
\Homage to a mustelid."
Published 10-22-2020 | Last updated 10-26-2020
61.135, -149.614
| History | Named in 1963 by members of the Mountaineering Club of Alaska because "Wolverine tracks were seen near its summit on an early M. C. A. acent in winter." |
| --- | --- |
| Description | In the Chugach Mountains between North and South Forks Campbell Creek, 10 mi SE of Anchorage, Chugach Mts. |
The Chugach mountains near modern Anchorage were well known to the Cook Inlet Dena'ina, especially along the corridor connecting Indian Creek (Nuti Edileni, 'Creek that Flows to Salt Water') to Ship Creek (Dgheyaytnu, 'Stickleback Creek') over Indian Creek Pass. Wolverine Peak, overlooking Anchorage from one valley west of the Indian Creek Pass thoroughfare, undoubtedly once carried a Dena'ina name which has yet to be rediscovered.[1]
It took the mountain quite a while longer to acquire an English name. In 1915 USGS photographer Stephen R. Capps passed through the new town of Anchorage on an assignment to which would eventually produce the report 'The Turnagain-Knik region' in USGS Bulletin 642[2]. His photo[3] of the townsite shows the peak as it would have been considered by the residents: a hazy part of the backdrop, with the clear and present concerns of American frontier life in the foreground.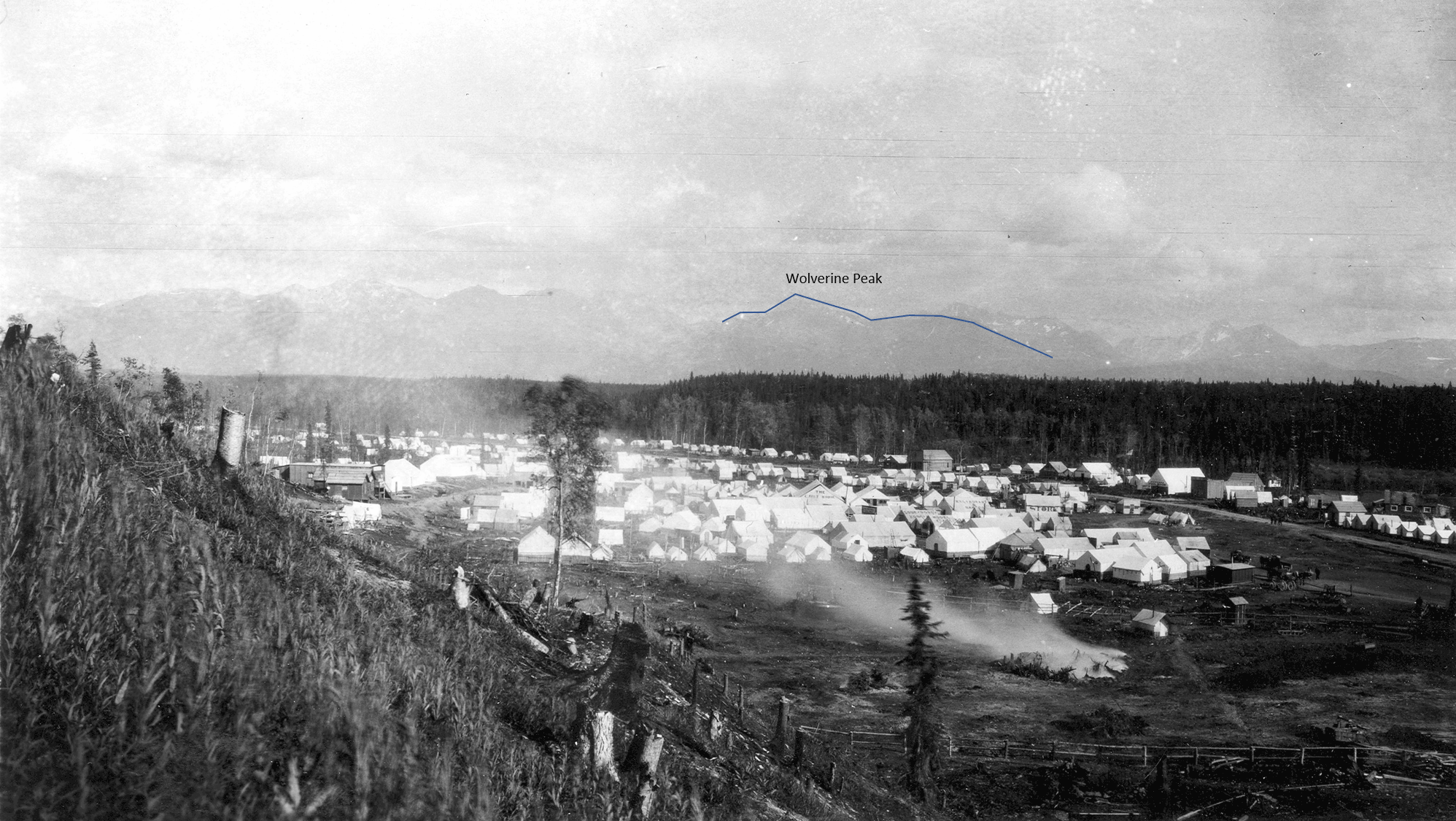 Although there are some earlier records of reaching summits for fun, another forty years passed before Anchorage grew and gained enough creature comforts to develop a community of residents eager to expend calories on recreational mountaineering. The Mountaineering Club of Alaska (MCA) was founded in 1958 "to encourage mountain climbing interest, to instruct on climbing, encourage exploration and form mountain rescue teams."[4] (Scree 12/58, quoting American Alpine News). The construction of new roads throughout the 1950s expanded Anchorage into the foothills of the Chugach and provided improved access to explore the backyard.
On Thanksgiving Day, November 22 1962, MCA member Rod Wilson and Dave Kimball, a friend visiting from Colorado, were out exploring. Wilson's trip report[5] in the monthly newsletter, the Scree, introduced the name for "the broad, triangular peak on the skyline east of Anchorage between Mt. Elliott and O'Malley Peak" after they "followed wolverine tracks in the light snow to the top where there was a frame and tattered red cloth siting structure." The structure was likely built by municipal surveyors since there is no permanent triangulation station or survey marker on the summit as would be expected from federal topographers. The nearest federal survey marker is designated 'Rusty,' and was placed lower on the west ridge by members of the US Geographical Survey (USGS) in 1962.[6] The city survey crew members were possibly the first non-Natives to stand on the summit, but since they offered no name the honor fell to Wilson and Kimball: "It shall hereafter and even for evermore be called Wolverine Mountain, unless someone wants to argue with me about it."
The MCA passed the name on to the U.S. Board of Geographic Names (BGN), which accepted the proposal in 1963. The BGN's case notes that "although this animal has several other features in Alaska named after him, his presence this close to Anchorage is felt worthy of commemoration in this minor place name."[7] Worthy of commemoration, but perhaps not surprise: the wolverine, Gulo gulo, is a remarkable animal with a broader range across the state than any other iconic Alaskan species.[8] With the exception of islands, it roams where it pleases. Individual wolverines, to the envy of mountaineers, can cover up to 13 miles per day in loping loops across the backcountry and often seem to prefer taking direct lines up the steepest terrain.[9] Despite their aversion to humans they are still occasionally spotted on the Anchorage Hillside, such as in a locally-famous video clip taken in 2019 by Kelly Willett of a wolverine trotting along mountain bike trails with a goat's head in its mouth (click here to view on YouTube).[10]

A Note on Historic Access
Early access to Wolverine Peak was from Basher Trailhead near the Campbell Airstrip, but without any modern established trails and park boundaries: "Like Alice in Wonderland, the hiker is forced to choose among a maze of moose trails, an occasional bulldozer track and, alas, what appeared to be a resolute Honda, all the while bushwhacking vigorously."[11] (Scree 08/65) By late 1970, Helen Nienheuser described alternate access in the Scree[12] and later in 55 Ways to the Wilderness in South Central Alaska[13] via what is now the Prospect Heights trailhead and Wolverine Bowl Trail.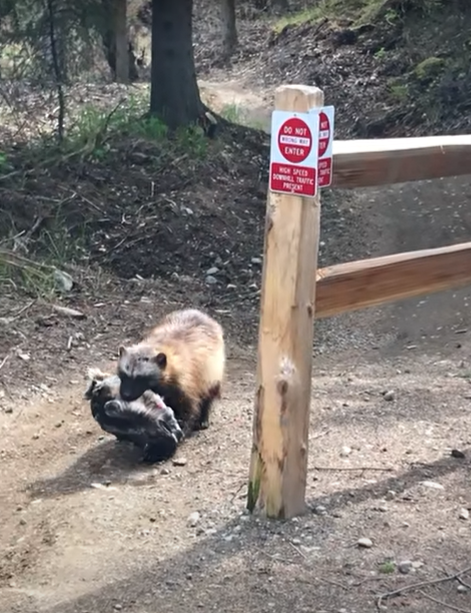 Sources
[1] Kari, J. and Fall, J. Shem Pete's Alaska (rev. 2 ed.). Fairbanks, Alaska: The University of Alaska Press, 2016.

[2] Capps, S.R. The Turnagain-Knik region, in Report on progress of investigations of mineral resources of Alaska in 1915. USGS Bulletin 642. Washington, D.C: Geological Survey (U.S.), 1916. https://dggs.alaska.gov/pubs/id/4749 (accessed October 26, 2020).

[3] Capps, S.R. Temporary town of Anchorage, Anchorage district, Cook Inlet region, Alaska. 1915. Photo. U.S. Geological Survey Photographic Library, Capps, S.R. Collection album, Volume 4, no.675. https://www.sciencebase.gov/catalog/item/51dc2dbee4b0f81004b79c00 (accessed October 20, 2020).

[4] The Scree, Mountaineering Club of Alaska, December 1958.

[5] Wilson, R., "Southwest Ridge of Wolverine Mountain" The Scree, Mountaineering Club of Alaska, December 1962.

[6] "UW7831 (RUSTY ET)," Survey Mark Datasheets, National Geodetic Survey, accessed October 20, 2020, https://geodesy.noaa.gov/cgi-bin/ds_pid.prl.

[7] "Proposal of Name for an Unnamed Domestic Feature - Wolverine Peak," USGS Geographic Names Information System (GNIS), accessed October 20, 2020, http://geonames.usgs.gov/apex/feat_folder?p_file=76942

[8] "Animals," Alaska Department of Fish and Game (ADF&G), accessed October 14, 2020, http://www.adfg.alaska.gov/index.cfm?adfg=animals.main

[9] Woodford, R. "Study of tough, cunning Alaska wolverine dispels some myths." The Anchorage Daily News, January 25, 2015. Accessed October 19, 2020. https://www.adn.com/we-alaskans/article/fish-and-game-study-tough-cunning-alaska-wolverine-dispels-some-myths/2015/01/25/.

[10] Kelly Willett, "Wolverine Walks By Biker, Carrying Goat Head," YouTube Video, 0:33, May 23, 2019, https://www.youtube.com/watch?v=wMwCLXmZMHs.

[11] Wilson, G., "Wolverine Peak" The Scree, Mountaineering Club of Alaska, August 1965.

[12] Nienhueser, H., "New Access for Wolverine and Knoya-Tikishla" The Scree, Mountaineering Club of Alaska, November 1970.

[13] Nienhueser, H. 55 Ways to the Wilderness in Southcentral Alaska (1 ed.). Seattle, WA: The Mountaineers, 1972.