<!?php echo nl2br($content); ?>
Eddie's
The Count of Monte Alyeska
Published 7-6-2021 | Last updated 7-6-2021
60.799, -149.121
[Unofficial name, no GNIS Entry]
Wintertime in Turnagain Pass. Your stoke is skyrocketing while driving south, and you have too little patience to be in your car and not skiing as soon as possible. So you stop at a pullout at Mile 72 of the Seward Highway, one of the very first options on the Kenai Peninsula. And then you skin up through a maze of trees into the backcountry ski zone called Eddie's.
Not the Eddies of a flowing river. Not Eddy's either. The full name of that run was Eddie's Secret Stash, or Eddie's Powder Stash, and that same man is the one who designed two landmarks book-ending the core of Girdwood, the Double Musky and the Alyeska Roundhouse, and who was Mayor of Girdwood when the world entered the 1970s.
Before all that, Edward Gendzwill was the youngest of 9 children in an aristocratic Polish family.[1][2] Ed has been described as 'the son of a count' for the sake of translation, but in reality the Gendźwiłłs were part of the szlachta, the land-owning nobility of Poland which didn't fit neatly into labels like Counts or Barons, and were part of a large group of families sharing the herb Ślepowron[3] – the Crest of the Blind Raven. There's no telling if Eddie ever reflected on that while skiing in a whiteout on the Raven Glacier, or if he felt especially at home near Crow Creek. It was only distant family history for him – his parents, Joseph and Josephine, gave up their aristocracy and their ź and łs when they moved to Michigan in 1885, and Eddie lived an All-American life once born in 1916.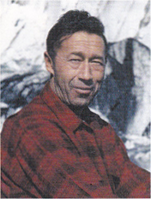 After moving through Utah and Illinois[6] Eddie enlisted in 1939, apparently for the Panama Canal Department,[7] but through some quirk of fate was sent to the opposite end of American territory: Elmendorf Air Force Base, Anchorage, Alaska. His fond memorial in Lana Johnson's book Alaska's Perfect Mountain states that he "took up skiing in 1953 and moved to Girdwood in 1958." Skiing must have been a dominant theme during those years, since prior to moving Eddie had been working as the first employee at Wes Landes' newly-formed Airglas Engineering, building novel fiberglass aircraft ski landing gear.[8] Landes was an enthusiastic competitive skier, and a skilled aircraft mechanic who eventually received the FAA's Charles Taylor Master Mechanic Award.[9] Once in Girdwood, Eddie found his home there in the budding ski community, acting as an architect, carpenter, a ski patroller in the early days of Alyeska, and the mayor from 1969 to 1971. Two of his most enduring contributions were the design of the Roundhouse in 1960[10] along with the original Alyeska ticket house, and design and construction of the original Double Musky with partner Bill Carlson in 1961.[4]
Paul Crews Jr. recalls Eddie and the Double Musky:
"Oh ho ho, yeah! He was a carpenter. Have you ever heard stories about the Double Musky? Next time you walk in the door, it'll be so crowded you have to look to see, but the original Double Musky was one big room and that was it. Everything else you see in the Double Musky is a bunch of add-ons. If you go in there you'll be able to see where one big room was."
"Its joists were framed all the way across and there were just big picnic tables in there and you could have a baked potato and steak and drinks and beer. After dinner all the tables would go against the wall, and then Polka Dan [Zantek] and Herman the German [Hastreiter] would play polka music. And that place, I mean… the beer glasses would bounce on the tables, it was amazing! It was really, really popular."[11]
Eddie built the place, but he would reliably join that crowd to help 'bring the house down.'
However, the Glacier Creek valley was not the only place Eddie spent his time. Like all good Counts, he kept a secret stash of treasure: that powder stash down the highway, for when Max's Mountain were all tracked out. And why not? In the days prior to Alyeska's first chairlift, all skiing south of the Arctic Valley tow rope was backcountry skiing. "At first we had to hike up the mountain; then as popularity increased, Super Cubs and helicopters started hauling skiers up," Eddie himself had recalled of Alyeska.[4]
So if you ever ski Eddie's Powder Stash and want to honor his memory: work hard, ski hard, love your community, and explore beyond the crowds.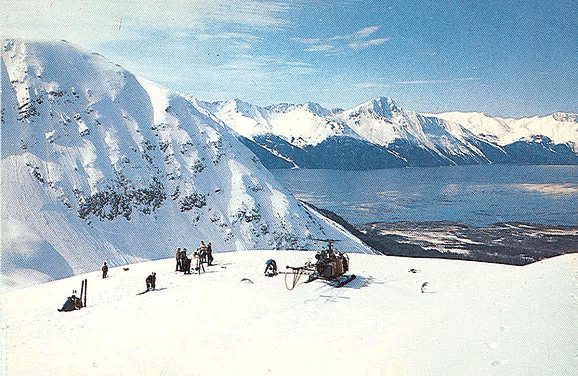 "Eddie Gendzwill carved a fine line on the ski slope, on the dance floor, and with his exquisite carpentry. … a slim, gentle man, empathetic but a perfectionist." - Lana Johnson in Alaska's Perfect Mountain[1, p.15]
Sources
[1] 1900 United States Census, Bates Township, Michigan, digital image s.v. "Joseph Gendjwill," FamilySearch.org (accessed June 30, 2021).

[2] Find a Grave, digital image s.v. "John 'Joe' Gendzwill," findagrave.com (accessed June 29, 2021).

[3] Appendices - herb Ślepowron. Accessed June 30, 2021. http://www.wladcy.myslenice.net.pl/Polska/zalaczniki/herb%20Slepowron.htm

[4] Johnson, L., and R. Brandon Alaska's Perfect Mountain. Fairbanks, AK: Epicenter Press, 2004.

[5] "A Girdwood Treasure." The Alaska Sportsman, October 2002.

[6] 1940 United States Census, Rantoul Township, Illinois, digital image s.v. "Edward M Gendzwill," FamilySearch.org (accessed June 30, 2021).

[7] United States World War II Army Enlistment Records, 1938-1946, s.v. "Edward M Gendzwill," accessed June 30, 2021. https://familysearch.org/ark:/61903/1:1:K8GK-WHK

[8] "Inventive Plastics Designer Produces Better Plane Ski." The Anchorage Daily Times, June 5, 1957. Accessed July 1, 2021. https://www.newsbank.com/

[9] "Wesley Landes," Legacy. Accessed July 1, 2021. https://www.legacy.com/us/obituaries/adn/name/wesley-landes-obituary?n=wesley-landes&pid=165802473

[10] Municipality of Anchorage. Draft - Girdwood History and Character Summary. Accessed April 15, 2021.https://www.muni.org/Departments/operations/streets/service/land%20use%20committee/2018/girdwood%20history%20and%20character%20summary%20draft.pdf

[11] Crews, Paul Jr., in discussion with the author. May 2021.