<!?php echo nl2br($content); ?>
The Postcard Photographers of Alaska
Published 7-31-2020 | Last updated 7-31-2020
The visual history of Alaska was often recorded in the form of Real Photo Postcards (or RPPCs). Photo postcards became technologically possible when Kodak released cardstock film in 1902, and the No. 3A Folding Pocket Kodak designed to take pictures in a postcard-friendly 3.5"x5.5" format in 1903, with other competitor companies following suit. Use of the technology exploded after 1907, when the US government passed legislation allowing messages to be printed on the back of a postcard, next to the address. Prior to that, one side of a postcard had been reserved exclusively for the address, similar to how the front of an envelope is used today.
The accessibility of the technology allowed amateur photographers to create and sell postcards, resulting in a large set of people around the country who were able and incentivized to photograph notable events, buildings, and individuals in both mundane and extraordinary situations. Use of photographs as postcards, which created dozens to thousands of duplicate images, also made the images more likely to be preserved compared to a negative which was just developed once for use in a private photo album.
All photographs published prior to January 1st, 1925, are in the public domain as of January 1st, 2020, along with some later photos depending on publication date, copyright renewal, and creator attribution. Further, Fair Use permits reproduction for purposes such as "criticism, comment, news reporting, teaching […], scholarship, or research" (17 USC Section 107).
This project serves to commemorate the photographers who created postcards of early Alaska, and to make high-quality digital copies of their photographs available for public viewing and historical research.
If you have any information about these photographers, or would like to contribute high-quality scans of postcards in your collection for digital preservation and historical research, please contact the Choss Lore project via chosslore@gmail.com. The Choss Lore project will never place watermarks over images which are the heritage of all Alaskans.
Biographies will be periodically added. Click a name to expand.
Howard W. Steward (who went by 'Stu'), born in North Yakima, Washington, was a prolific commercial photographer from 1918-1956 and continued as a hobbyist after his retirement. He was especially active in Alaska and Idaho, but also worked in California. The majority of his biographical details were included in an extensive family history produced by the Aaker family, Norwegian immigrants to the US who originally settled near Wisconsin in 1845.[1] Steward was included in the 3rd edition, published in 1951, by virtue of his marriage to Aaker descendant Kathryn Lundeberg in Boise, Idaho, on July 4th, 1937.
Steward "… was born Oct. 1, 1893, in North Yakima, Wash. […] He graduated from the Emmett (Idaho) High School, 1913, and attended the University of Idaho and the Polytechnical College of Engineering, in California. In 1915-16 he served in the U. S. Navy, on board the USS Oregon."
-The Aaker Family Saga, p.116
By 1918 Steward had moved to Alaska to pursue a career as a professional photographer[2]
"He has been engaged in photography most of his life, except for the period 1924-27 when he was timekeeper for the Kennecott Copper Corporation in Alaska. He was photographer with the pilot on the first airmail flight from Valdez to Fairbanks, Alaska, and pioneered most of the aerial photography in southwestern Alaska."
-The Aaker Family Saga, p.116
The biographical details and family tree in the Aaker Family Saga indicate that Howard and Kathryn (b. 1912) did not have children by 1951, so it is unlikely they have any direct descendants. However, Howard had been previously married while in Alaska. On May 11, 1929, Howard Steward married Henrietta Brown of Seward on a Gorst amphibious plane piloted by Clayton Scott between Cordova and Anchorage.[3] Contemporary newspapers called it the first aerial wedding in Alaska, and "likely the first in the world where every detail was performed in the air, as the marriage license was also issued in the air."[4] Shortly after that wedding, Steward was heavily injured in a plane crash near Gakona.[5] The crash reportedly crippled him, and he underwent foot surgery in Portland in 1930 as a result.[6]
Details of Steward's life between 1930 and 1937 are currently unclear, including what became of his first marriage and when he relocated from Alaska to Idaho. Details of his Californian career are also uncertain; he is referred to as 'H.W. Steward of San Francisco' in collections of Hollywood photos taken from 1924-1928[7]
Steward retired from commercial photography in 1956 but continued as a hobbyist. In 1965, celebrating his 72nd birthday, he gifted the Idaho State Department of Commerce and Development a collection of 2500 photgraphs, the majority or entirety of which were of Idaho.[2]
An undigitized collection of over 2000 Alaskan photographs by H.W. Steward is held by the Bancroft Library at UC Berkeley[8]; the majority of the negatives are on nitrate film and must be handled as hazardous material due to flammability. This most likely represents the most comprehensive collection of Steward's Alaskan photography, although his images are also common elements of other individuals' albums, scrapbooks, and collections.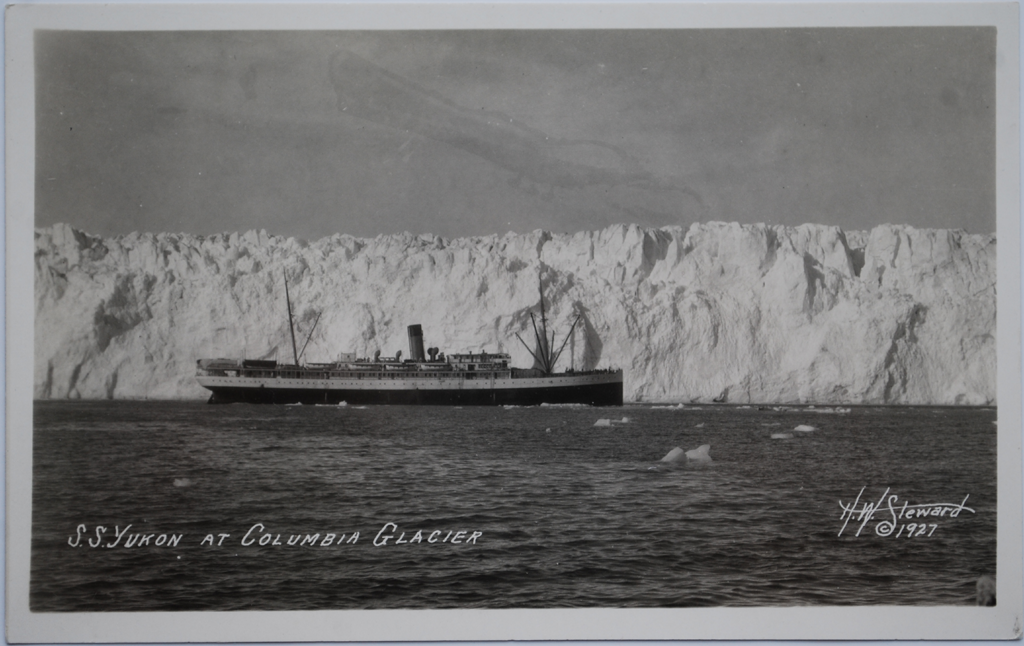 Sources
[1] Olaf Lundeberg, A. M. Holmquist, A. A. Rowberg, and Mrs. George T. Rygh "The Aaker Saga" (Northfield, Minnesota: Mohn Printing Company, 1951). From The Internet Archive. https://ia803100.us.archive.org/27/items/aakersagafamilyh00unse/aakersagafamilyh00unse.pdf (accessed June 25, 2020).

[2] "State Scenic Pictures Given to Idaho Agency" Spokane Chronicle October 13, 1965. Accessed July 30, 2020.

[3] "Thirty Years Ago in the News-Miner" Fairbanks Daily News Miner, May 11, 1959. Accessed July 30, 2020. Newspapers.com

[4] "Looking Back: 40 Years Ago Today" Fairbanks Daily News Miner, May 12, 1969. Accessed July 30, 2020. Newspapers.com

[5] "News-Miner Article on Aviation Disputed" Fairbanks Daily News Miner, October 17, 1930. Accessed July 30, 2020. Newspapers.com

[6] "Alaska Notes" Fairbanks Daily News Miner, January 30, 1930. Accessed July 30, 2020. Newspapers.com

[7] "Fanchon & Marco, Volume 1." The Huntington Library, Art Museum, and Botanical Gardens. Accessed July 29, 2020. https://hdl.huntington.org/digital/collection/p15150coll2/id/6331/

[8] "Howard W. Steward collection of Alaska photographs." Online Archive of California. Accessed July 29, 2020. https://oac.cdlib.org/search?style=oac4;Institution=UC%20Berkeley::Bancroft%20Library;titlesAZ=H;idT=UCb16223238x

The following biography for John E. Thwaites was compiled by the University of Washington Libraries Special Collections to describe their collection, John E. Thwaites photographs, 1905-1931.[1]
"John Edward Thwaites, son of sailor and shipwright George Thwaites, was born in Eastwood, Ontario, Canada in 1863. About 1871, the family migrated to northern Michigan in search of better farm lands. As a young man he worked the family farm and attended a local college. In 1885 he married a local girl named Carrie Warne. The pair became employed in Michigan as public school teachers. Poor health eventually led Thwaites to settle in the warmer climates of Bowling Green, Florida. Unfortunately, his pursuit of a teaching career and investment in a drugstore did not serve to establish a very good livelihood for Thwaites. By good fortune, the Florida Southern Railroad had a depot in the town of Bowling Green and it was through his contact with them that he decided to apply for a position as a federal Railway Mail Service clerk in 1895, a job that would ultimately lead him far north to Alaska. In 1901 he was transferred to the Rocky Mountain Division of the Great Northern Railway where he was stationed in Spokane, Washington. Working for the railroad was, however, dangerous work. Due to his unfortunate involvement in numerous train wrecks and derailments, he decided to apply for a position in Alaska. He was assigned the "ship service" mail route from Valdez to Unalaska in 1905, serving mainly on the Northwestern Steamship Company's steamer the S.S. Dora. His office officially was designated as the "mail closet", a stateroom on the port side of the boat. It was here that he conducted the business of delivering the mail in monthly visits to the people of Southwestern Alaska.
Thwaites was an amateur photographer with no formal schooling in the art or technique of photography. His camera was a Kodak 3-A Special, a popular camera for producing postcards. Using this minimal equipment, he enthusiastically captured scenes in the Aleutian Islands, the Unga Peninsula, Kodiak Island, Prince William Sound and Bristol Bay. Salmon packing plants, codfish stations, Aleutian natives, Eskimos, maritime accidents, and small coastal towns and the details of Alaska life were often the subjects of his camera.
Alaska is known for its extreme weather conditions. Storms and foul weather often led to shipwrecks and maritime disasters in coastal waters. On January 5, 1910, Thwaites was aboard the S. S. Farallon, a wooden steam schooner, when it was wrecked at Illiamna Bay, Cooks Inlet. He and thirty others survived for one month on the beach by retrieving supplies from the grounded ship and scavenging the brush for fuel. His photographs document the harsh conditions of the shipwrecked passengers providing a chilly portrait of their primitive survival conditions. They were rescued eventually by the S.S. Victoria. He also documented the grounding of the Mariposa (which he was aboard) on June 8, 1915, when it struck a rock in the Fitz Hugh Sound, British Columbia stranding 95 passengers on the shore. Thwaites's own vessel, the Dora, was often damaged throughout its career. A standing joke among the locals was that the ship had somehow managed to hit every rock between Seattle and Seward.
Thwaites was transferred to the Seward-Seattle mail route in 1914. He began operating his photographic business out of his home in Seward, making at least two runs by dogsled to deliver the mail to the Yukon-Kuskokwim region. He remarried in 1915 and in 1919 he retired from the Mail Service and opened a small photography and curio shop on Dock Street in Ketchikan, where he and his wife specialized in hand coloring photographs. He moved his business to the Ingersoll Hotel in Ketchikan in 1924. He eventually sold his business to his assistant in 1932 and moved with his wife to Mercer Island, Washington, where he died in 1940."
A digitized collection of 394 Thwaites photographs held by the University of Washington can be viewed online.[2]
Sources
[1] "John E. Thwaites photographs, 1905-1931." University of Washington Libraries, Special Collections. Archives West. Accessed March 23, 2021. http://archiveswest.orbiscascade.org/ark:/80444/xv67483/

[1] "John E. Thwaites photographs, 1905-1931." University of Washington Libraries, Special Collections. Accessed March 23, 2021. https://digitalcollections.lib.washington.edu/digital/collection/thwaites/search